like this…photo form online…
Because everybody wanted a taste, so this man, went out of his way, to make this special treat for the group, the thoughtfulness of it all, translated…
In this team I'd worked together in, there were a couple of very experienced performers.  One of them, is W, whom I'd secretly worshipped from years ago.  Before we'd started working together, I'd only thought his ways of doing things, his beliefs were amazing, but after we'd started working together, I was, deeply, attracted to his "unique sense of innocence".
The unique sense of innocence, would normally show up in the elders who'd been through the storms in their lives.  They'd listened quietly, to us the younger generation joke on, bullshitting each other, and would flash their participatory smiles at us, without much judgments.
the prep work, photo form online…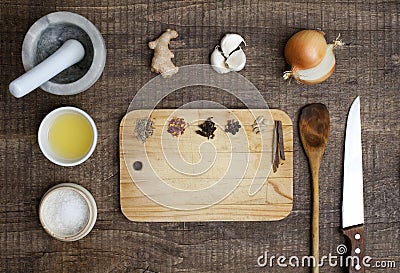 …, we just need the meats
Those braver guys, would start making jokes with them, and worked hard, to rehearse their lines with them, actually, that would be, for self-preservation.  On stage, W would from time to time, added a line of his own or two, normally, it would not affect his opposite's lines.  It's just, that sometimes, it would, push the laughter into the extremes.
As I'd started working in the group, I'd heard that W was excellent at making curry.  I'd heard, that as the troupe made the rounds and returned back to Taipei, W would make his famous curry, bring it to the set and treat everybody. This time, we'd had a good show, and, we'd played coy with W, said that we wanted his curry that only he knows how to make.  Finally, the second week of performances, our dreams, came true.
I was told, that by the end of that day's performances, it was already late in the nights when he'd gotten home, and yet, he'd immediately, begun preparing the curry servings for over twenty to thirty people immediately.  Skinning the potatoes, carrots, and the onions, there's also that serving of refreshing lemon tomato cucumber salad too.  W told us that he had a fight with his wife, because they were disagreeing on when to make the sides.  His wife said, for the sake of freshness, the foods needed to be prepared the night before; W said, that for the sauces to get in, the foods needed to be prepared two nights before.  We were all beat after the performances, and he'd still worked on making the curry until four in the morn, his wife felt bad for him, it's just that we were all, gluttons, and W didn't want to disappoint.
Normally, I was usually the first one to arrive one the set to makeup, but that day before I got to the dressing rooms, I'd smelled that aromatic curry already.  Looking at the clock, it wasn't even eleven yet, and W probably had less than just five hours of sleep, because of our curry, and all of a sudden, I'd felt guilty, over how much of a glutton I was.
what the finished product looked like…photo from online…
The three large pots and one small pot's worth of curry were, orderly placed in the breakroom, with funny names for each pot, to separate which one is pork, beef, and vegetarian for us.  W watched all of us, couldn't stop eating and kept getting more and more servings of rice, he'd told us of the fight he had with his wife the night before.  After we're all full, there are, servings of sharing meals before us all, mine lasted two meals for my family.
I'd always felt, that the Taiwanese has an introverted way of showing love to each other, and, the medium to show the love, was through food—so the ones you served to can have a tasty meal, to savor it longer.
So, you can see, how much heart went in, for this man, to cook up the curry for his group, and, that just showed how much heart this man had, and, Asian people often showed their cares and concerns for one another, by cooking the favorite foods of the person who is coming to visit for them.  Food has become, a part, of our everyday life, not for the sake of hunger anymore!