The interaction between a father and his own child, with the child now, taking care of the father, as he ages, translated…
My father was diagnosed with diabetes, his condition wasn't stabilized, although he'd followed the dietary terms of the doctors, but recently, he'd felt that his vision was blurred, and worried, that there are going to be, complications to his condition as he get older.  With his worries on my mind, I'd gone with him to an ophthalmologist, to have his eye sight checked.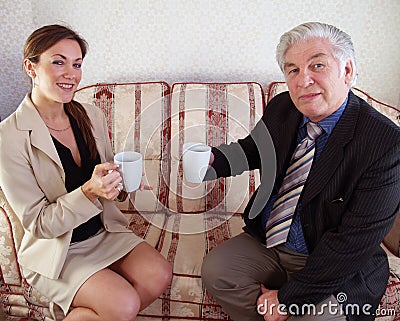 like this, hard to come by moment before work???  Not my photograph…
As we returned to the clinic for the results, we'd needed to, preregister with the offices, but because the ophthalmologist was a famous doctor, the rosters were filled up too quickly.  Early in the morn, I'd waited by the computer, for the online registries to open up.  At which time, my father handed me a cup of coffee, with his hands, shaking, it'd, made my heart moved a little; waited until I was able to sign him up for his doctor's appointment successfully, it's made him relieved, I'd taken a sip of the coffee, I was, moved once more—my dad, who's usually very strict and firm, told me, "Thank you", I was, moved to, beyond any verbal expressions.
After I'd finished my cup of coffee, I went to the sink, and saw how there were, grinds which my father had, spilled out out of carelessness, and, the grinds didn't get thrown into the trash either, I'd felt, that sorrow rising from within me, and, took care of it silently.
That cup of coffee, with some salt added, tasted, very sweet to me, I'm sure, that my dad will be, okay.
So, from this interaction of father and child, you can see, that this pair may have been, estranged, for a long while, and, the child took care of the dad, and, he couldn't find his words to tell his young that he was grateful for being looked after so well, so, he'd, used his actions, and, although, it was just a small cup of coffee, and the father added salt instead of sugar, the child still felt moved by the father's gestures.